---
The Words of God
Copyright © January 15, 2004
by Robert Wayne Atkins, P.E.
All Rights Reserved.
---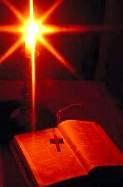 Each and every Word spoken by God and recorded by one of His prophets,
Will accomplish what God intended and achieve the purpose for which He sent it.
The miracle of God's Words are that He spoke them once when they were first needed,
But they continue to transform human hearts one life at a time whenever they are heeded.
God's Words will continue to work miracles day after day, and millennium after millennium,
As each one of God's recently born children become aware of His infinite wisdom and compassion.
---
This Poem Dedicated to My Grandson
Matthew Scott McClintock, Jr. First Child of the Union between Shena Leigh Johnson and Matthew Scott McClintock.
Together they created a beautiful new life.
Dedicated by:
Robert Wayne Atkins, P.E.
Retired Baptist Church Deacon
and Great-Grandson of a Baptist Preacher.
Date of Dedication of Poem: April 12, 2004
---
---



Reference Scripture Verses


2 Peter 1:21 - For prophecy never had its origin in the will of man, but men spoke from God as they were carried along by the Holy Spirit.

2 Timothy 3:16-17 - All Scripture is God-breathed and is useful for teaching, rebuking, correcting and training in righteousness, so that the man of God may be thoroughly equipped for every good work.

Isaiah 55:10-11 - As the rain and the snow come down from heaven, and do not return to it without watering the earth and making it bud and flourish, so that it yields seed for the sower and bread for the eater, so is my word that goes out from my mouth: It will not return to me empty, but will accomplish what I desire and achieve the purpose for which I sent it.

Isaiah 59:21 - As for me, this is my covenant with them," says the LORD. "My Spirit, who is on you, and my words that I have put in your mouth will not depart from your mouth, or from the mouths of your children, or from the mouths of their descendants from this time on and forever," says the LORD.

Isaiah 40:8 - The grass withers and the flowers fall, but the word of our God stands forever.

Psalm 119:89 - Your word, O LORD, is eternal;

Matthew 24:55 - Heaven and earth will pass away, but my words will never pass away.

Proverbs 30:5-6 - Every word of God is flawless; he is a shield to those who take refuge in him. Do not add to his words, or he will rebuke you and prove you a liar.


---
Click on www.grandpappy.org for Robert's Home Page.

Grandpappy's e-mail address is: RobertWayneAtkins@hotmail.com