---
Comparison of the Kindle Fire and the Apple iPad
Copyright © May 22, 2017 by Robert Wayne Atkins, P.E.
All Rights Reserved.
---
Introduction
My wife, my children, and several of my grandchildren have owned their own Apple iPads for about four years.

About three weeks ago I purchased a Kindle Fire instead of an Apple iPad because of some of the shortcomings of the Apple iPad.

The purpose of this article is to review the strengths and weaknesses of these two digital devices.


---
The Apple iPad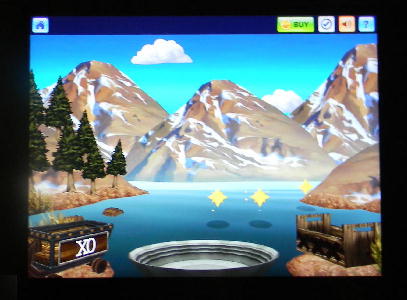 The Apple iPad has the following advantages:

Screen Size: The screen is big enough to be easily viewed by one or two people. The screen is also big enough that a normal game can be enjoyable played by one person.


Screen Clarity: The screen resolution is excellent and the quality of the screen images are superior.


Battery Life: A fully charged battery will last for about 10 hours before it needs to be recharged.


Apps: The number of free high-quality Apps for the Apple iPad is amazing.


iTunes: The iPad has iTunes and iTunes is compatible with your Ultraviolet digital movie account. If you purchase a DVD or Blu-ray movie, and an Ultraviolet digital copy of the movie is included with your purchase, then you may have the option to access the iTunes version of that movie. This means you can watch the movie anytime you are connected to the internet without having to pay a special fee just to watch the movie on your iPad.

The Apple iPad has the following disadvantages:
Cost: An Apple iPad is a lot more expensive than a Kindle Fire. A basic Apple iPad can be purchased starting at about $330. However, an iPad with a reasonable amount of memory and a reasonable size screen will cost approximately $500 to $600 or more.


Fraud One: There are a lot of "reconditioned" units being sold at various websites as "new" units. If you decide to invest in an Apple iPad then I strongly recommend that you purchase directly from Apple.com in order to avoid being sold a "reconditioned" unit that may have its serial number "blocked" due to the non-payment of some type of unpaid bill by its previous owner.


Fraud Two: There are some websites that are advertising "high end" units but they are shipping "cheaper" units and you may not notice the difference when you first receive the unit. Therefore I strongly recommend that you purchase directly from Apple.com in order to make sure that you receive what you pay for.


Memory: The memory is limited and this causes problems after a short period of time. If you wish to add something new to your iPad then you have to delete something old. This means if you want to download a new game or a new movie then you have to delete an old game or a movie you have already watched. This is not a pleasant experience if you enjoy playing all the games on your iPad or if you want to keep a movie because you really enjoyed it and you know you would watch it again if you got bored. (Note: My younger grandchildren sometimes enjoy watching the same exact movie many, many, many times.)

---
The Kindle Fire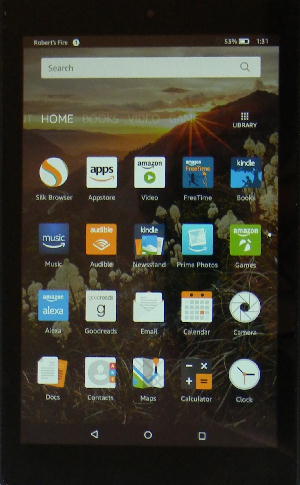 The Kindle Fire has the following advantages:

Cost: A Kindle Fire is more affordable that an iPad. The basic unit can be purchased for less than $100 on Amazon.


Battery Life: A fully charged battery will last for about 12 hours before it needs to be recharged.


Prime Digital Movies: If you become an Amazon Prime member, then you will have access to a lot of "free" digital movies as long as you continue your Prime membership.


Memory Card: Some of the Kindle Fires allow for the insertion of a 200 GB SanDisk micro SD memory card to increase the storage space on the device. This was the primary reason I decided to invest in a Kindle instead of an Apple iPad. Unfortunately, I later discovered that Amazon has a limit on the number of "Prime" digital movies that you can download, and Amazon has a limit on how long you can keep a downloaded "Prime" movie on your Kindle Fire before it is automatically deleted. Therefore I will never need the "extra" memory that I paid for.

The Kindle Fire has the following disadvantages:
Screen Size: The screen size is only 8 inches (diagonally). If you wish to watch a movie and not strain your vision, then you may wish to consider wearing reading glasses (such as 1.25) to increase the size of the movie to something that is comfortable to view. (NOTE: I did not purchase the Kindle Fire HD 10 inch screen because it uses the same screen technology as the 8 inch screen and this means it displays the same exact picture on a larger screen but the resolution (clarity) of the picture is approximately 25% lower. I also read on the Amazon web page that many Amazon Kindle customers had problems with the 10 inch screen occasionally skipping and freezing and showing blurred images when a movie was playing. Therefore I purchased the 8 inch screen because I did not want to experience the problems that Amazon's customers were having with their Kindle Fire HD 10 inch screens.)


TV Connection: The Amazon web page where I purchased my Kindle Fire had pictures showing that I could watch movies that were playing on my Kindle Fire on my HDMI big screen TV. This was one of the main reasons I purchased the Kindle Fire. I also purchased the Kindle Fire Instruction Book so I would be able to do this immediately when I received my new equipment. The Kindle Fire Instruction Book for the new Kindle Fire HD 8 and HD 10 has several pages of instructions that explain how to connect the new Kindle Fire HD 8 and HD 10 to a TV by using a special micro HDMI to regular HDMI cable. I immediately purchased one of these cables. Then I looked carefully all over my new Kindle Fire HD 8 and I discovered that there was no micro HDMI port on the new Kindle Fire. This port had been deleted on the new versions of the Kindle Fire. Therefore it was impossible to connect my new Kindle Fire to my TV using the technique described in the Kindle Fire Instruction Book that I had just purchased, and that was also advertised on the Amazon Kindle Fire web page where I had purchased my Kindle Fire.


Prime Digital Movies: An Amazon Prime membership limits your "free Prime" movie downloads to 25 movies. After you have downloaded and saved your 25th movie then you are notified that you cannot download and save any more movies on your Kindle Fire (even though you may have lots and lots and lots of available memory space) because you have reached the limit of your Prime membership. If you want to download and save any more "free Prime" movies than you must delete some of the "free Prime" movies that you have downloaded and saved onto your device.


Limited Viewing Time of Prime Movies: When I downloaded the free Prime movies onto my Kindle Fire I was not immediately informed that I only had a limited amount of time to watch the downloaded movies. However, later when I looked closely at my downloaded movie collection I noticed that a few of the movies now had an expiration date included with the movie that was not there when I downloaded the movie. One of the movies had already passed its expiration date and when I clicked on the icon of the movie it was immediately deleted from my Kindle Fire. I was not pleased. I have since learned that you only have approximately 14 days (more or less) to watch a free Prime movie that you download before it expires and then it is automatically deleted from your Kindle Fire.


Internet Connection: If you have some Prime digital movies downloaded and saved on your Kindle Fire, and you exit an area where you were connected to the internet via WiFi, then your Kindle Fire is immediately offended. If you click on the Video icon, and you try to watch a free Prime digital movie that you previously downloaded, then you are immediately informed that you have 48 hours to enjoy watching the Prime movies that you previously downloaded and the clock is ticking. If you do not reconnect to a WiFi network within the 48 hour time period then you will lose access to all the free Prime movies that are currently downloaded on your Kindle Fire. In addition, when I checked the status of the 16 Prime movies that I had previously successfully and completely downloaded and saved on my Kindle Fire, only 5 of those movies were still available for immediate viewing. The other 11 movies now informed me that I had a "download error" and that I would not be able to view those 11 movies until I reconnected to the internet and downloaded those movies again. I was very disappointed.


Music Quantity: You can transfer a maximum of 250 songs that you have already purchased onto your Kindle Fire. If you want to transfer more than 250 songs then Amazon will charge you an extra annual fee for exceeding their maximum limit of previously purchased music. However, you can buy as much music from Amazon as you wish.


Music Supported: Over the years I have purchased and downloaded more than 400 music titles to my portable laptop computer. I was able to transfer this music to my new laptop computer when my old laptop computer expired. About six months ago I was able to transfer my entire music collection onto my new cell phone. However, when I tried to transfer those same music files onto my new Kindle I was informed that the format of those music files was one that Kindle would not recognize or support. But I could purchase all this music again on Amazon if I wanted to have my music collection available to me on my new Kindle Fire.


Email: I wanted to test the email option on my Kindle Fire so I opened the email App and I typed in all the email account information that was requested. Then my Kindle Fire connected me to my email account. The next time I clicked the email icon on my Kindle Fire it immediately opened my email account without asking me for my email password. I did not like that. So I used the Help function on my Kindle Fire and I sent an email to the Kindle Fire support staff and asked them how I could stop this from happening. I waited two weeks and I never received a reply to my email asking for help. Therefore I used my laptop computer to change my email password. And I did not tell Amazon my new email password. The next time I clicked on the email icon on my Kindle Fire I was informed that my email account was currently unavailable. I was very happy. This may not seem to be an important issue to you but I know that some extremely large companies have had their computers "hacked" and a lot of their private customer information was stolen and used against the customers of the company. I simply wanted to protect myself from this type of potential future damage.


Share Location: Most of the App Icons that come with the Kindle Fire require that you share your location with Amazon. This means they can access your Kindle Fire to collect any information they wish and they can even access the cameras on your Kindle Fire and observe you and your family without your knowledge. This is legally possible because you give them your permission when you click "Share Location." I decided I did not want to have my privacy invaded so I did not share my location and therefore most of the App Icons on my new Kindle Fire will not work because I wanted to protect my privacy.


Games: I decided to test the game icon. Most of the games advertised on my Kindle Fire had to be purchased. However, there were a few "free" games that were available. When I read the "agreement" that came with the "free" game I was made aware of the fact that I was agreeing to sharing my game experience with a variety of "social media networks" to improve their ability to help me spend my money on the things they might want to sell me. I also discovered that many of the games were going to offer me the option to purchase things inside the game (using my credit card that was already on file) in order to help me more thoroughly enjoy my gaming experience and to help me successfully play and complete the game. After about five minutes of reading all the disclosure information about the games offered on my Kindle Fire I decided I would never play a game that was advertised on my Kindle Fire because I did not want to have my privacy invaded. It may be possible to search the internet to find games that I could play on the Kindle Fire that were not linked to the agreements required by Amazon but I have no desire to do this because the playing screen on the Kindle Fire is too small for me to enjoy playing a game on the Kindle Fire.


Pictures: When I read the documentation in my Kindle Fire Instruction Book (a book I had to buy in addition to my Kindle Fire) I was informed that every picture I took with my Kindle Fire would automatically be saved on one of Amazon's storage devices (the cloud) and that it would always be available to me whenever I wanted to look at it (as long as I was connected to the internet). I immediately realized that my pictures would also be available to anyone who had access to the Amazon file storage area. Since I do not want my pictures shared without my permission, I decided I would never take a picture using my new Kindle Fire.


Purchase Movies: You can buy a digital copy of most movies for viewing on your Kindle Fire. The cost of a Kindle digital movie is the same, or almost the same, as the cost of the same exact movie on DVD or Blu-ray. However, if you purchase a digital copy of the movie for your Kindle then you can only watch the movie on the small screen of your Kindle Fire. However, if you purchase a DVD or Blu-ray copy of the movie then you can watch the movie on any big screen TV that has a DVD player or a Blu-ray player connected to it. In addition, if the price of the DVD or Blu-ray disk includes a digital copy of the movie then you could watch the movie on your laptop computer (or on your Apple iPad if an iTunes version is available). Therefore I personally will not be purchasing any digital movies from Amazon for my Kindle Fire.

I realize that many of my readers may already know about all of the above issues, and some of you may not be annoyed by the issues that I consider to be problems.

However, after approximately three weeks of owning and using my new Kindle Fire HD 8 I have decided I will not be using it in the future except on a very limited basis. If Amazon Prime adds any new free movies to the list of movies already available, and if it is a movie I am interested in, then I may watch it on my Kindle Fire without bothering to download it.


---
Conclusion
I am disappointed with the Kindle Fire HD 8 that I purchased for all the reasons mentioned above.

However, my family members that own an Apple iPad all seem to enjoy using their Apple iPads, with the exception that they all complain about the limited amount of memory and being forced to delete something old in order to add something new.

Therefore, I will continue to use my portable laptop computer instead of a Kindle Fire or an Apple iPad for the following reasons:

Cost: I paid about $425 for my portable laptop computer about 2 years ago. My computer runs Windows 7 because I prefer Windows 7. Although my laptop could easily be upgraded to Windows 10, I have no intention of making that change. All my software works flawlessly with Windows 7 and I appreciate not having the problems that Windows 10 users are having.


Camera: I put a very small piece of black electrical tape over the camera on the top middle of my computer display screen. Covering the computer camera does not automatically dim the display to compensate for the loss of light. The piece of black tape blends in with the black plastic around the display screen so you cannot see the black tape unless you look very carefully for it. This gives me some piece of mind because I know that my laptop camera cannot be used to invade my privacy by anyone or by any organization.


Screen Size: It has a 17.6 inch (diagonal) display and everything displayed on the screen is very easy to see.


Screen Resolution: The screen resolution is adjustable but I keep it on the maximum number of pixels and the smallest font size.


Battery Life: A fully charged battery will last about 6 hours.


DVD Player/Writer: It will read and write DVDs. This means I can watch any DVD movie on my computer at any time and the 17.6 inch screen makes the experience very enjoyable. It also means that I can save an archive of my files onto a DVD disc and then put the disc in a safe place for backup purposes.


Ports: It has three USB ports and an HDMI port. The HDMI port allows me to connect my computer to a big screen TV using a standard HDMI cable. This gives me the option to use my laptop computer as a DVD player (in an emergency) so that my entire extended family can watch a DVD movie on a big screen TV.


Internal Memory: My computer has 500 GB of internal memory. I have a lot of digital books, and over 400 music titles, and over 200 very entertaining family games, and over 150 full length Ultraviolet digital movies downloaded and saved on my hard drive. If we lose electrical power, or if we lose our WiFi signal, then my family still has immediate access to a lot of entertainment options to help keep them from getting bored.


WiFi: Although my primary laptop computer has WiFi, I have not connected it to the internet at my home and I have not entered my home WiFi password into my primary computer. Therefore my primary computer cannot connect to my home WiFi. I like knowing that the files I have on my computer are relatively safe from being stolen without my knowledge. I have a second laptop computer in my home that I use to connect to the internet so I can access my email every day, and read the latest news, and buy something over the internet. But I don't have any personal files stored on my second computer and the only thing I use it for is to connect to the internet. When I need to send something that is stored on my primary computer to someone else, then I transfer the file to a flash drive, and then I put the flash drive in my second computer, and then I attach the file to an outgoing email. Then I delete the file from my flash drive. (Note: I connect to my printer with a standard printer cable.)


Although my family members have access to their own Apple iPads, we prefer to stay in touch with one another using our cell phones (voice and text messages). A cell phone can also be used to take pictures, check the weather, browse the internet, and get GPS directions in route while you are driving to a location you have never visited before. Our cell phones are compact with big screens, powerful (memory card added), lightweight, easy to use, and our cell phones are almost always with us.

In conclusion, I am very happy with my portable laptop computer and with my cell phone. I really don't need a Kindle Fire or an Apple iPad.

Respectfully,
Grandpappy.


---
Click on www.grandpappy.org for Robert's Home Page.

Grandpappy's e-mail address is: RobertWayneAtkins@hotmail.com