---
Treasure
Copyright © February 2, 2004
by Robert Wayne Atkins, P.E.
All Rights Reserved.
---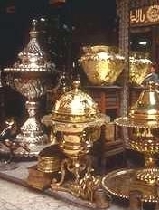 Two questions we ask whether we are young or we are old:
- What is the very best way to acquire silver and gold?
- Where is the safest place to keep the treasures we hold?
Protecting your wealth is as important as earning it,
because any riches you acquire could easily be lost
to fire or flood or theft or taxes or some other cost.
There are two ways a huge fortune can gradually be saved:
- Give the Lord your God a portion of all the money you've made,
- And give freely to the poor without expecting to be repaid.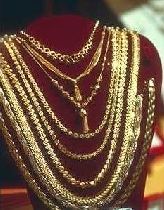 The eternal God who sees the deeds you do while you're alive,
will create a purse for you in Heaven with your name inscribed,
and He will keep it safe for you until the day you arrive.
If you will test the Lord in this then you will discover that He:
- Will keep all your gifts safe for your eternal prosperity,
- And He will bless you on this earth so that you thrive abundantly.
It is sad but all the money you earn and don't give away,
will be spent or invested or lost in some other way,
and you could die as poor as you were on your very first birthday.
---
---



Reference Scripture Verses


Malachi 3:8-12
"Will a man rob God? Yet you rob me.
"But you ask, `How do we rob you?'
"In tithes and offerings. You are under a curse -- the whole nation of you -- because you are robbing me. Bring the whole tithe into the storehouse, that there may be food in my house. Test me in this," says the LORD Almighty, "and see if I will not throw open the floodgates of heaven and pour out so much blessing that you will not have room enough for it. I will prevent pests from devouring your crops, and the vines in your fields will not cast their fruit," says the LORD Almighty. "Then all the nations will call you blessed, for yours will be a delightful land," says the LORD Almighty.

Matthew 19:21 - Jesus answered, "If you want to be perfect, go, sell your possessions and give to the poor, and you will have treasure in heaven. Then come, follow me."

Luke 12:33-34 - Sell your possessions and give to the poor. Provide purses for yourselves that will not wear out, a treasure in heaven that will not be exhausted, where no thief comes near and no moth destroys. For where your treasure is, there your heart will be also.

Ecclesiastes 5:15 - Naked a man comes from his mother's womb, and as he comes, so he departs. He takes nothing from his labor that he can carry in his hand.

1 Timothy 6:7 - For we brought nothing into the world, and we can take nothing out of it.

1 Corinthians 3:12-15 - If any man builds on this foundation using gold, silver, costly stones, wood, hay or straw, his work will be shown for what it is, because the Day will bring it to light. It will be revealed with fire, and the fire will test the quality of each man's work. If what he has built survives, he will receive his reward. If it is burned up, he will suffer loss; he himself will be saved, but only as one escaping through the flames.

Revelation 14:13 - Then I heard a voice from heaven say, "Write: Blessed are the dead who die in the Lord from now on." "Yes," says the Spirit, "they will rest from their labor, for their deeds will follow them."


---
Click on www.grandpappy.org for Robert's Home Page.

Grandpappy's e-mail address is: RobertWayneAtkins@hotmail.com