---
Interpretation of Scripture
Copyright © January 29, 2007
Revised February 24, 2007
by Robert Wayne Atkins, P.E.
All Rights Reserved.
---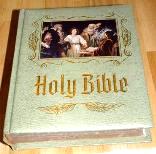 Some Bible verses only have one logical literal interpretation.
But some verses may have both a literal and a spiritual application.

For example, the parable of the seed has an obvious simple interpretation.
But Jesus also provided another more sophisticated spiritual explanation.

When reading scripture it is good to look for a deeper spiritual revelation.
But we should not ignore the simple truth that requires no clarification.


---
---



Reference Scripture Verses


2 Peter 1:20-21 - Above all, you must understand that no prophecy of Scripture came about by the prophet's own interpretation. For prophecy never had its origin in the will of man, but men spoke from God as they were carried along by the Holy Spirit.

2 Timothy 3:16-17 - All Scripture is God-breathed and is useful for teaching, rebuking, correcting and training in righteousness, so that the man of God may be thoroughly equipped for every good work.

Isaiah 34:16 - Seek ye out of the book of the LORD, and read:

Luke 18:16-17 - But Jesus called the children to him and said, "Let the little children come to me, and do not hinder them, for the kingdom of God belongs to such as these. I tell you the truth, anyone who will not receive the kingdom of God like a little child will never enter it."

Romans 10:9-13 - if you confess with your mouth, "Jesus is Lord," and believe in your heart that God raised him from the dead, you will be saved. For it is with your heart that you believe and are justified, and it is with your mouth that you confess and are saved. As the Scripture says, "Anyone who trusts in him will never be put to shame." For there is no difference between Jew and Gentile -- the same Lord is Lord of all and richly blesses all who call on him, for, "Everyone who calls on the name of the Lord will be saved."

Joel 2:32 - And everyone who calls on the name of the LORD will be saved;


---
Click on www.grandpappy.org for Robert's Home Page.

Grandpappy's e-mail address is: RobertWayneAtkins@hotmail.com