---
A Humble Birth
Copyright © December 15, 2003 by Robert Wayne Atkins, P.E.
Revised November 20, 2006 and November 30, 2007 and April 9, 2009.
All Rights Reserved.
---
It is a 90-mile walk from Nazareth to Bethlehem
to pay a census tax required by the Caesar of Rome.

There is no room inside the inn so Joseph and Mary
rent a stall in a stable as a temporary home.

The appointed time arrives for the birth of the child
but there is no doctor nor midwife nor other caregiver.

Joseph alone is there with his betrothed Mary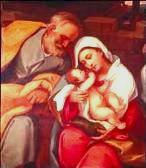 and he helps his future wife her first Child to deliver.

There are no baby clothes available for the newborn Child,
so the Infant is wrapped in several long strips of cloth.

There are no beds nor cots nor cradles to be found,
so the Infant sleeps amongst the straw in a feeding trough.

Whose birth merits accommodations such as these?
Just the First Born and Only Son of our Eternal Majesty.


---
---



Reference Scripture Verses


Luke 2:1-14 - In those days Caesar Augustus issued a decree that a census should be taken of the entire Roman world. (This was the first census that took place while Quirinius was governor of Syria.) And everyone went to his own town to register. So Joseph also went up from the town of Nazareth in Galilee to Judea, to Bethlehem the town of David, because he belonged to the house and line of David. He went there to register with Mary, who was pledged to be married to him and was expecting a child. While they were there, the time came for the baby to be born, and she gave birth to her firstborn, a son. She wrapped him in cloths and placed him in a manger, because there was no room for them in the inn. And there were shepherds living out in the fields nearby, keeping watch over their flocks at night. An angel of the Lord appeared to them, and the glory of the Lord shone around them, and they were terrified. But the angel said to them, "Do not be afraid. I bring you good news of great joy that will be for all the people. Today in the town of David a Savior has been born to you; he is Christ the Lord. This will be a sign to you: You will find a baby wrapped in cloths and lying in a manger." Suddenly a great company of the heavenly host appeared with the angel, praising God and saying, "Glory to God in the highest, and on earth peace to men on whom his favor rests."

John 3:16-18 - "For God so loved the world that he gave his one and only Son, that whoever believes in him shall not perish but have eternal life. For God did not send his Son into the world to condemn the world, but to save the world through him. Whoever believes in him is not condemned, but whoever does not believe stands condemned already because he has not believed in the name of God's one and only Son."

Isaiah 9:6-7 - For to us a child is born, to us a son is given, and the government will be on his shoulders. And he will be called Wonderful Counselor, Mighty God, Everlasting Father, Prince of Peace. Of the increase of his government and peace there will be no end. He will reign on David's throne and over his kingdom, establishing and upholding it with justice and righteousness from that time on and forever. The zeal of the LORD Almighty will accomplish this.


---
Click on www.grandpappy.org for Robert's Home Page.

Grandpappy's e-mail address is: RobertWayneAtkins@hotmail.com