---
The Great Resurrection
Original Copyright © April 11, 2005
Revised © June 4, 2006
by Robert Wayne Atkins, P.E.
All Rights Reserved.
---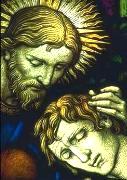 In the town of Nain a young man was being carried in his coffin to his grave.
Jesus felt sad in His heart because the man was the only son of a widow.
Jesus stopped the funeral and He said, "Young man, I say to you, get up!"
Instantly the dead man sat up and spoke, and Jesus gave him to his mother.

The twelve-year old daughter of the ruler of the local synagogue had died.
Jesus entered the room where the dead body of the little girl lay on her bed.
Jesus spoke softly to her and He said, "Little girl, I say to you, get up!"
Immediately the little girl stood up, and walked around, and was fed.

For four days Lazarus was dead inside his tomb in the small town of Bethany.
Then Jesus requested that the stone in front of his tomb be rolled away.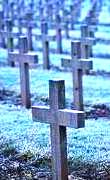 Jesus spoke in a loud voice and He said, "Lazarus, come out!"
And Lazarus walked out of his tomb and he ate with Jesus later that day.

Jesus always spoke directly to one person when He spoke to the dead.
If Jesus had not specified one person each time He spoke His command,
All the dead would have heard, whether in the seas, or as ashes in the wind,
and all the graves under the earth would have split open across the land.

Unless Jesus returns first then one day I too will be resting in my grave.
And slowly but surely my dead body will gradually begin to decay.
But one day Jesus will return and with a loud voice He will shout,
"All my followers, arise!" - - and I will hear and I will obey.


---
---



Reference Scripture Verses


The Widow's Only Son:
Luke 7:11-15 - Soon afterward, Jesus went to a town called Nain, and his disciples and a large crowd went along with him. As he approached the town gate, a dead person was being carried out -- the only son of his mother, and she was a widow. And a large crowd from the town was with her. When the Lord saw her, his heart went out to her and he said, "Don't cry." Then he went up and touched the coffin, and those carrying it stood still. He said, "Young man, I say to you, get up!" The dead man sat up and began to talk, and Jesus gave him back to his mother.

The 12-year Old Daughter:
Mark 5:35-43 - While Jesus was still speaking, some men came from the house of Jairus, the synagogue ruler. "Your daughter is dead," they said. "Why bother the teacher any more?" Ignoring what they said, Jesus told the synagogue ruler, "Don't be afraid; just believe." He did not let anyone follow him except Peter, James and John the brother of James. When they came to the home of the synagogue ruler, Jesus saw a commotion, with people crying and wailing loudly. He went in and said to them, "Why all this commotion and wailing? The child is not dead but asleep." But they laughed at him. After he put them all out, he took the child's father and mother and the disciples who were with him, and went in where the child was. He took her by the hand and said to her, "Talitha koum!" (which means, "Little girl, I say to you, get up!"). Immediately the girl stood up and walked around (she was twelve years old). At this they were completely astonished. He gave strict orders not to let anyone know about this, and told them to give her something to eat.

Luke 8:51-56 - When he arrived at the house of Jairus, he did not let anyone go in with him except Peter, John and James, and the child's father and mother. Meanwhile, all the people were wailing and mourning for her. "Stop wailing," Jesus said. "She is not dead but asleep." They laughed at him, knowing that she was dead. But he took her by the hand and said, "My child, get up!" Her spirit returned, and at once she stood up. Then Jesus told them to give her something to eat. Her parents were astonished, but he ordered them not to tell anyone what had happened.

Lazarus:
John 11:43-44 - When he had said this, Jesus called in a loud voice, "Lazarus, come out!" The dead man came out, his hands and feet wrapped with strips of linen, and a cloth around his face. Jesus said to them, "Take off the grave clothes and let him go."

The Rapture of the Saints:
1 Timothy 4:16-18 - For the Lord himself will come down from heaven, with a loud command, with the voice of the archangel and with the trumpet call of God, and the dead in Christ will rise first. After that, we who are still alive and are left will be caught up together with them in the clouds to meet the Lord in the air. And so we will be with the Lord forever. Therefore encourage each other with these words.

Job 19:25-27 - I know that my Redeemer lives, and that in the end he will stand upon the earth. And after my skin has been destroyed, yet in my flesh I will see God; I myself will see him with my own eyes -- I, and not another.

Isaiah 26:19 - Your dead shall live; together with my dead body they shall arise. Awake and sing, you who dwell in the dust; for your dew is like the dew of herbs, and the earth shall cast out the dead.

John 5:24-27 - I tell you the truth, whoever hears my word and believes him who sent me has eternal life and will not be condemned; he has crossed over from death to life. I tell you the truth, a time is coming and has now come when the dead will hear the voice of the Son of God and those who hear will live. For as the Father has life in himself, so he has granted the Son to have life in himself. And he has given him authority to judge because he is the Son of Man.

John 5:28-29 - Do not be amazed at this, for a time is coming when all who are in their graves will hear his voice and come out -- those who have done good will rise to live, and those who have done evil will rise to be condemned.

Daniel 12:2-3 - Multitudes who sleep in the dust of the earth will awake: some to everlasting life, others to shame and everlasting contempt. Those who are wise will shine like the brightness of the heavens, and those who lead many to righteousness, like the stars for ever and ever.


---
Click on www.grandpappy.org for Robert's Home Page.

Grandpappy's e-mail address is: RobertWayneAtkins@hotmail.com