---
The Bronze Snake
Copyright © February 22, 2006
by Robert Wayne Atkins, P.E.
All Rights Reserved.
---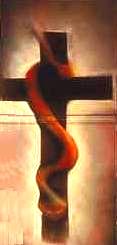 The Israelites rebelled against God in the wilderness and there they did sin.
So God sent snakes to attack them and many died when they were bitten.
Then they asked Moses to pray to God and they begged to be forgiven.

So God told Moses to make an image of a snake for the people to see,
and to be healed they just had to look at the snake hanging on the tree.

So Moses made a bronze snake and he put it on a pole way up high,
and the people knew it was just a bronze snake staring down from the sky.
But each person still had to choose - to look and live, or not look and die.

- - - - - - - - - - -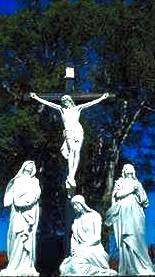 Jesus told the Israelites of His day that He was like that bronze snake,
and He would soon be lifted up from the earth for His followers' sake,
so all who believed would live and of the second death not partake.

Jesus did not say that we had to understand how this could be.
He simply said, "All your sins will be forgiven if you just believe in Me."

Have you trusted in Jesus, the Son of God Who lives forevermore?
You don't need to understand how your soul will pass thru Heaven's door.
You just need to believe in Jesus and the gift of eternal life will be yours.


---
---



Reference Scripture Verses


Numbers 21:4-9 - They traveled from Mount Hor along the route to the Red Sea, to go around Edom. But the people grew impatient on the way; they spoke against God and against Moses, and said, "Why have you brought us up out of Egypt to die in the desert? There is no bread! There is no water! And we detest this miserable food!" Then the LORD sent venomous snakes among them; they bit the people and many Israelites died. The people came to Moses and said, "We sinned when we spoke against the LORD and against you. Pray that the LORD will take the snakes away from us." So Moses prayed for the people. The LORD said to Moses, "Make a snake and put it up on a pole; anyone who is bitten can look at it and live." So Moses made a bronze snake and put it up on a pole. Then when anyone was bitten by a snake and looked at the bronze snake, he lived.

John 3:14-15 - Just as Moses lifted up the snake in the desert, so the Son of Man must be lifted up, that everyone who believes in him may have eternal life.

Revelation 2:11 - He who has an ear, let him hear what the Spirit says to the churches. He who overcomes will not be hurt at all by the second death.

Revelation 20:14-15 - The lake of fire is the second death. If anyone's name was not found written in the book of life, he was thrown into the lake of fire.

Revelation 21:6-8 - He said to me: "It is done. I am the Alpha and the Omega, the Beginning and the End. To him who is thirsty I will give to drink without cost from the spring of the water of life. He who overcomes will inherit all this, and I will be his God and he will be my son. But the cowardly, the unbelieving, the vile, the murderers, the sexually immoral, those who practice magic arts, the idolaters and all liars -- their place will be in the fiery lake of burning sulfur. This is the second death."

John 20:29-31 - Then Jesus told him, "Because you have seen me, you have believed; blessed are those who have not seen and yet have believed." Jesus did many other miraculous signs in the presence of his disciples, which are not recorded in this book. But these are written that you may believe that Jesus is the Christ, the Son of God, and that by believing you may have life in his name.

John 6:37-40 - "All that the Father gives me will come to me, and whoever comes to me I will never drive away. For I have come down from heaven not to do my will but to do the will of him who sent me. And this is the will of him who sent me, that I shall lose none of all that he has given me, but raise them up at the last day. For my Father's will is that everyone who looks to the Son and believes in him shall have eternal life, and I will raise him up at the last day."


---
Click on www.grandpappy.org for Robert's Home Page.

Grandpappy's e-mail address is: RobertWayneAtkins@hotmail.com