---
The Truth
Copyright © February 9, 2004
Revised May 22, 2011
by Robert Wayne Atkins, P.E.
All Rights Reserved.
---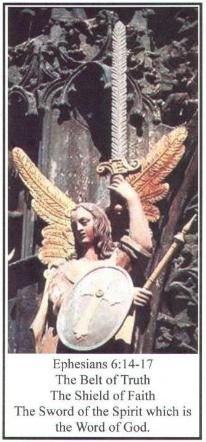 Sometimes the truth is visible to everyone and
sometimes the truth is hidden from our eyes.
Sometimes the truth is mixed in with rumors,
misinformation, half-truths, and intentional lies.
If a person impulsively decides what he or she wants to believe,
then it is very easy to justify that point of view.
You simply accept anything that supports your belief,
and then you discard everything else as being untrue.
But a person who honestly seeks to know the truth
will not form an opinion until all has been revealed.
And then that person will carefully separate the truth
from all the lies in which it has been carefully concealed.
The origin of lies is Satan and he still tempts people to lie
in his ongoing effort to bury the truth in obscurity.
Even our historical past which should be known for certain
is sometimes rewritten to support the latest philosophy.
In a world where lies frequently outnumber the truth
where can we go to be certain we are not being deceived?
There is only one place and that is the Holy Bible.
Read it carefully and the truth will set you free.
---
---



Reference Scripture Verses


John 8:44 - You belong to your father, the devil, and you want to carry out your father's desire. He was a murderer from the beginning, not holding to the truth, for there is no truth in him. When he lies, he speaks his native language, for he is a liar and the father of lies.

2 Timothy 2:15 - Do your best to present yourself to God as one approved, a workman who does not need to be ashamed and who correctly handles the word of truth.

Ephesians 1:13-14 - And you also were included in Christ when you heard the word of truth, the gospel of your salvation. Having believed, you were marked in him with a seal, the promised Holy Spirit, who is a deposit guaranteeing our inheritance until the redemption of those who are God's possession -- to the praise of his glory.

Ephesians 6:13-17 - Therefore put on the full armor of God, so that when the day of evil comes, you may be able to stand your ground, and after you have done everything, to stand. Stand firm then, with the belt of truth buckled around your waist, with the breastplate of righteousness in place, and with your feet fitted with the readiness that comes from the gospel of peace. In addition to all this, take up the shield of faith, with which you can extinguish all the flaming arrows of the evil one. Take the helmet of salvation and the sword of the Spirit, which is the word of God.

2 Timothy 3:16-17 - All Scripture is God-breathed and is useful for teaching, rebuking, correcting and training in righteousness, so that the man of God may be thoroughly equipped for every good work.

2 Peter 1:21 - For prophecy never had its origin in the will of man, but men spoke from God as they were carried along by the Holy Spirit.

Isaiah 34:16 - Seek ye out of the book of the LORD, and read:

Matthew 24:55 - Heaven and earth will pass away, but my words will never pass away.

John 17:17 - your word is truth.

John 8:31-32 - Jesus said, "If you hold to my teaching, you are really my disciples. Then you will know the truth, and the truth will set you free."


---
Click on www.grandpappy.org for Robert's Home Page.

Grandpappy's e-mail address is: RobertWayneAtkins@hotmail.com