---
Time
Copyright © December 1, 2005
by Robert Wayne Atkins, P.E.
All Rights Reserved.
---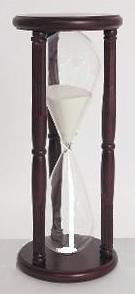 In the beginning there was nothing -- no light, no sound, no atoms, no dust.
And then God created everything, including all the science that governs it.

God created mathematics, and physics, and some things we do not understand.
God also created time and we can measure time with a hourglass and grains of sand.

At one moment in time each one of us is born and that becomes the day of our birth.
And from that moment on we gradually grow older until we reach the day of our death.

But God was not born nor will He ever die. God is from everlasting to everlasting.
God is alive right now in the past, and in the present, and in the future that is yet to be.

God knows the future because He is already there and for Him it is not a mystery.
God created time and time does not control God. God controls time for all eternity.

And one day you will get to watch God as He creates a new heaven and a new earth.
And then time will not matter because Jesus will have defeated both hell and death.

Eternal life will be yours because of your faith in Godís one and only begotten Son.
And time will be meaningless because the victory over death you also will have won.


---
---



Reference Scripture Verses


Genesis 1:1 - In the beginning God created the heavens and the earth.

Matthew 24:36 - "No one knows about that day or hour, not even the angels in heaven, nor the Son, but only the Father."

Revelation 9:13-15 - The sixth angel sounded his trumpet, and I heard a voice coming from the horns of the golden altar that is before God. It said to the sixth angel who had the trumpet, "Release the four angels who are bound at the great river Euphrates." And the four angels who had been kept ready for this very hour and day and month and year were released to kill a third of mankind.

2 Peter 3:8 - But do not forget this one thing, dear friends: With the Lord a day is like a thousand years, and a thousand years are like a day.

Joshua 10:12-14 - On the day the LORD gave the Amorites over to Israel, Joshua said to the LORD in the presence of Israel: "O sun, stand still over Gibeon, O moon, over the Valley of Aijalon." So the sun stood still, and the moon stopped, till the nation avenged itself on its enemies, as it is written in the Book of Jashar. The sun stopped in the middle of the sky and delayed going down about a full day. There has never been a day like it before or since, a day when the LORD listened to a man. Surely the LORD was fighting for Israel!

2 Kings 20: 9-11 - Isaiah answered, "This is the LORD's sign to you that the LORD will do what he has promised: Shall the shadow go forward ten steps, or shall it go back ten steps?"
"It is a simple matter for the shadow to go forward ten steps," said Hezekiah. "Rather, have it go back ten steps."
Then the prophet Isaiah called upon the LORD, and the LORD made the shadow go back the ten steps it had gone down on the stairway of Ahaz.

Psalm 90:2 - Before the mountains were born or you brought forth the earth and the world, from everlasting to everlasting you are God.

Psalm 145:13 - Your kingdom is an everlasting kingdom, and your dominion endures through all generations.

Nehemiah 9:5 - "Stand up and praise the LORD your God, who is from everlasting to everlasting."

Jeremiah 31:3 - The LORD appeared to us in the past, saying: "I have loved you with an everlasting love; I have drawn you with loving-kindness."

Psalm 103:17-18 - But from everlasting to everlasting the LORD's love is with those who fear him, and his righteousness with their children's children -- with those who keep his covenant and remember to obey his precepts.

Psalm 139:13-18 - For you created my inmost being; you knit me together in my mother's womb. I praise you because I am fearfully and wonderfully made; your works are wonderful, I know that full well. My frame was not hidden from you when I was made in the secret place. When I was woven together in the depths of the earth, your eyes saw my unformed body. All the days ordained for me were written in your book before one of them came to be. How precious to me are your thoughts, O God How vast is the sum of them! Were I to count them, they would outnumber the grains of sand.

John 8:58 - "I tell you the truth," Jesus answered, "before Abraham was born, I am!"

Luke 9:27-31 - "I tell you the truth, some who are standing here will not taste death before they see the kingdom of God." About eight days after Jesus said this, he took Peter, John and James with him and went up onto a mountain to pray. As he was praying, the appearance of his face changed, and his clothes became as bright as a flash of lightning. Two men, Moses and Elijah, appeared in glorious splendor, talking with Jesus. They spoke about his departure, which he was about to bring to fulfillment at Jerusalem.

John 3:16-18 - "For God so loved the world that he gave his one and only Son, that whoever believes in him shall not perish but have eternal life. For God did not send his Son into the world to condemn the world, but to save the world through him. Whoever believes in him is not condemned, but whoever does not believe stands condemned already because he has not believed in the name of God's one and only Son.

Daniel 12:2-3 - Multitudes who sleep in the dust of the earth will awake: some to everlasting life, others to shame and everlasting contempt. Those who are wise will shine like the brightness of the heavens, and those who lead many to righteousness, like the stars for ever and ever.

Isaiah 65:17 - "Behold, I will create new heavens and a new earth. The former things will not be remembered, nor will they come to mind."

Isaiah 66:22 - "As the new heavens and the new earth that I make will endure before me," declares the LORD, "so will your name and descendants endure."

2 Peter 3:13 - But in keeping with his promise we are looking forward to a new heaven and a new earth, the home of righteousness.

Revelation 21:1-4 - Then I saw a new heaven and a new earth, for the first heaven and the first earth had passed away, and there was no longer any sea. I saw the Holy City, the new Jerusalem, coming down out of heaven from God, prepared as a bride beautifully dressed for her husband. And I heard a loud voice from the throne saying, "Now the dwelling of God is with men, and he will live with them. They will be his people, and God himself will be with them and be their God. He will wipe every tear from their eyes. There will be no more death or mourning or crying or pain, for the old order of things has passed away."


---
Click on www.grandpappy.org for Robert's Home Page.

Grandpappy's e-mail address is: RobertWayneAtkins@hotmail.com