---
Repetition
Copyright © October 25, 2010
by Robert Wayne Atkins, P.E.
All Rights Reserved.
---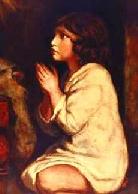 There is a big difference between vain repetition and a sincere prayer.

Vain repetition is repeating the same memorized words over and over
and therefore you do not really think about the words you actually say.

A sincere prayer is when you earnestly desire for God to do something
and you ask God for the same exact thing day after day after day.

Jesus said that asking for the same thing until we receive it is okay.
However, if God says "No." then for something else we should pray.


---
---



Reference Scripture Verses


Vain Repetition:
Matthew 6:7-8 - And when you pray, do not use vain repetitions as the heathen do. For they think that they will be heard for their many words. Therefore do not be like them. For your Father knows the things you have need of before you ask Him.

Sincere Prayer:
James 5:13-16 - Is any one of you in trouble? He should pray. Is anyone happy? Let him sing songs of praise. Is any one of you sick? He should call the elders of the church to pray over him and anoint him with oil in the name of the Lord. And the prayer offered in faith will make the sick person well; the Lord will raise him up. If he has sinned, he will be forgiven. Therefore confess your sins to each other and pray for each other so that you may be healed. The prayer of a righteous man is powerful and effective.

Jesus' Comments About Repeating a Prayer:
Luke 18:1-8 - Then Jesus told his disciples a parable to show them that they should always pray and not give up. He said: "In a certain town there was a judge who neither feared God nor cared about men. And there was a widow in that town who kept coming to him with the plea, 'Grant me justice against my adversary.' For some time he refused. But finally he said to himself, 'Even though I don't fear God or care about men, yet because this widow keeps bothering me, I will see that she gets justice, so that she won't eventually wear me out with her coming!'" And the Lord said, "Listen to what the unjust judge says. And will not God bring about justice for his chosen ones, who cry out to him day and night? Will he keep putting them off? I tell you, he will see that they get justice, and quickly."

Luke 11:5-8 - Then he said to them, "Suppose one of you has a friend, and he goes to him at midnight and says, 'Friend, lend me three loaves of bread, because a friend of mine on a journey has come to me, and I have nothing to set before him.' Then the one inside answers, 'Don't bother me. The door is already locked, and my children are with me in bed. I can't get up and give you anything.' I tell you, though he will not get up and give him the bread because he is his friend, yet because of the man's boldness he will get up and give him as much as he needs."

Paul's Comments About Repeating a Prayer:
Romans 1:9-10 - God, whom I serve with my whole heart in preaching the gospel of his Son, is my witness how constantly I remember you in my prayers at all times; and I pray that now at last by God's will the way may be opened for me to come to you.

When God Said "No." to Paul:
2 Corinthians 12:7-9 - To keep me from becoming conceited because of these surpassingly great revelations, there was given me a thorn in my flesh, a messenger of Satan, to torment me. Three times I pleaded with the Lord to take it away from me. But he said to me, "My grace is sufficient for you, for my power is made perfect in weakness." Therefore I will boast all the more gladly about my weaknesses, so that Christ's power may rest on me.

When God Said "No." to Moses:
Numbers 20:7-12 - The LORD said to Moses, "Take the staff, and you and your brother Aaron gather the assembly together. Speak to that rock before their eyes and it will pour out its water. You will bring water out of the rock for the community so they and their livestock can drink." So Moses took the staff from the LORD's presence, just as he commanded him. He and Aaron gathered the assembly together in front of the rock and Moses said to them, "Listen, you rebels, must we bring you water out of this rock?" Then Moses raised his arm and struck the rock twice with his staff. Water gushed out, and the community and their livestock drank. But the LORD said to Moses and Aaron, "Because you did not trust in me enough to honor me as holy in the sight of the Israelites, you will not bring this community into the land I give them."

Deuteronomy 3:23-26 - At that time I pleaded with the LORD: "O Sovereign LORD, you have begun to show to your servant your greatness and your strong hand. For what god is there in heaven or on earth who can do the deeds and mighty works you do? Let me go over and see the good land beyond the Jordan -- that fine hill country and Lebanon." But because of you the LORD was angry with me and would not listen to me. "That is enough," the LORD said. "Do not speak to me anymore about this matter."


---
Click on www.grandpappy.org for Robert's Home Page.

Grandpappy's e-mail address is: RobertWayneAtkins@hotmail.com