---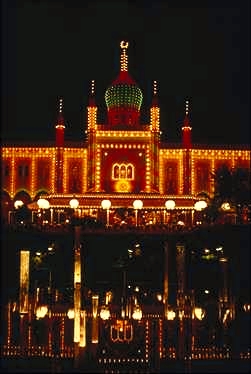 Princes and Princesses
Copyright © September 2, 2009
by Robert Wayne Atkins, P.E.
All Rights Reserved.
---

God is both the Creator and the Sovereign Ruler of the entire universe,
and He desires fellowship with us through faith in His Son Jesus.

If we will accept and acknowledge Jesus Christ as our Lord and Savior,
then we will become a child of God and Jesus will become our Brother.

When we become a child of the Eternal King of the entire universe,
then each one of us also becomes a royal Prince or a royal Princess.

And we will spend eternity in Paradise rejoicing with one another,
where we will praise and glorify God and His Son for ever and ever.


---
---
Reference Scripture Verses


Psalm 45:6 - Your throne, O God, will last for ever and ever; a scepter of justice will be the scepter of your kingdom.

Psalm 47:8 - God reigns over the nations; God is seated on his holy throne.

Luke 1:30-33 - But the angel said to her, "Do not be afraid, Mary, you have found favor with God. You will be with child and give birth to a son, and you are to give him the name Jesus. He will be great and will be called the Son of the Most High. The Lord God will give him the throne of his father David, and he will reign over the house of Jacob forever; his kingdom will never end."

John 3:16-18 - "For God so loved the world that he gave his one and only Son, that whoever believes in him shall not perish but have eternal life. For God did not send his Son into the world to condemn the world, but to save the world through him. Whoever believes in him is not condemned, but whoever does not believe stands condemned already because he has not believed in the name of God's one and only Son.

John 18:37 - "You are a king, then!" said Pilate. Jesus answered, "You are right in saying I am a king. In fact, for this reason I was born, and for this I came into the world, to testify to the truth. Everyone on the side of truth listens to me."

Romans 10:9-10 - if you confess with your mouth, "Jesus is Lord," and believe in your heart that God raised him from the dead, you will be saved. For it is with your heart that you believe and are justified, and it is with your mouth that you confess and are saved.

Galatians 4:4-5 - But when the time had fully come, God sent his Son, born of a woman, born under law, to redeem those under law, that we might receive the full rights of sons.

Galatians 3:26 - You are all sons of God through faith in Christ Jesus,

Hebrews 12:2 - Let us fix our eyes on Jesus, the author and perfecter of our faith, who for the joy set before him endured the cross, scorning its shame, and sat down at the right hand of the throne of God.

Hebrews 2:10-11 - In bringing many sons to glory, it was fitting that God, for whom and through whom everything exists, should make the author of their salvation perfect through suffering. Both the one who makes men holy and those who are made holy are of the same family. So Jesus is not ashamed to call them brothers.

Ephesians 1:4-6 - In love he predestined us to be adopted as his sons through Jesus Christ, in accordance with his pleasure and will - to the praise of his glorious grace, which he has freely given us in the One he loves.

John 1:12-13 - Yet to all who received him, to those who believed in his name, he gave the right to become children of God -- children born not of natural descent, nor of human decision or a husband's will, but born of God.

1 John 3:1-3 - How great is the love the Father has lavished on us, that we should be called children of God! And that is what we are! The reason the world does not know us is that it did not know him. Dear friends, now we are children of God, and what we will be has not yet been made known. But we know that when he appears, we shall be like him, for we shall see him as he is. Everyone who has this hope in him purifies himself, just as he is pure.

1 John 5:19 - We know that we are children of God,

Romans 8:14-19 - because those who are led by the Spirit of God are sons of God. For you did not receive a spirit that makes you a slave again to fear, but you received the Spirit of sonship. And by him we cry, "Abba, Father." The Spirit himself testifies with our spirit that we are God's children. Now if we are children, then we are heirs -- heirs of God and co-heirs with Christ, if indeed we share in his sufferings in order that we may also share in his glory. I consider that our present sufferings are not worth comparing with the glory that will be revealed in us. The creation waits in eager expectation for the sons of God to be revealed.

Luke 19:16-19 - The first one came and said, 'Sir, your mina has earned ten more.'
" 'Well done, my good servant!' his master replied. 'Because you have been trustworthy in a very small matter, take charge of ten cities.'
"The second came and said, 'Sir, your mina has earned five more.'
"His master answered, 'You take charge of five cities.'

Revelation 20:4-6 - They came to life and reigned with Christ a thousand years. (The rest of the dead did not come to life until the thousand years were ended.) This is the first resurrection. Blessed and holy are those who have part in the first resurrection. The second death has no power over them, but they will be priests of God and of Christ and will reign with him for a thousand years.

Revelation 21:1-4 - Then I saw a new heaven and a new earth, for the first heaven and the first earth had passed away, and there was no longer any sea. I saw the Holy City, the new Jerusalem, coming down out of heaven from God, prepared as a bride beautifully dressed for her husband. And I heard a loud voice from the throne saying, "Now the dwelling of God is with men, and he will live with them. They will be his people, and God himself will be with them and be their God. He will wipe every tear from their eyes. There will be no more death or mourning or crying or pain, for the old order of things has passed away."

Revelation 22:1-5 - Then the angel showed me the river of the water of life, as clear as crystal, flowing from the throne of God and of the Lamb down the middle of the great street of the city. On each side of the river stood the tree of life, bearing twelve crops of fruit, yielding its fruit every month. And the leaves of the tree are for the healing of the nations. No longer will there be any curse. The throne of God and of the Lamb will be in the city, and his servants will serve him. They will see his face, and his name will be on their foreheads. There will be no more night. They will not need the light of a lamp or the light of the sun, for the Lord God will give them light. And they will reign for ever and ever.


---
Click on www.grandpappy.org for Robert's Home Page.

Grandpappy's e-mail address is: RobertWayneAtkins@hotmail.com