---
One Precious Life
Copyright © November 18, 2003
by Robert Wayne Atkins, P.E.
All Rights Reserved.
---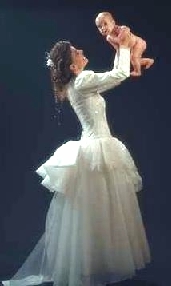 "Oh! How Precious," are the exclamations
of the crowd as they stare at the baby girl.
"Oh! How Beautiful," are the words heard
when the baby girl grows up and becomes a new bride.
Time passes and the bride becomes a mother,
a grandmother, and a very old woman.
Her hair thins and turns white and
her face withers and wrinkles with age.
"Oh! How Precious and Beautiful," God exclaims,
as He welcomes His reborn daughter into Heaven.
---
---



Reference Scripture Verses


1 John 5:13 - I write these things to you who believe in the name of the Son of God so that you may know that you have eternal life.

Romans 6:23 - the gift of God is eternal life in Christ Jesus our Lord.

Titus 1:2 - a faith and knowledge resting on the hope of eternal life, which God, who does not lie, promised before the beginning of time,

Isaiah 46:4 - Even to your old age and gray hairs I am he, I am he who will sustain you. I have made you and I will carry you; I will sustain you and I will rescue you.

Philippians 3:20-21 - But our citizenship is in heaven. And we eagerly await a Savior from there, the Lord Jesus Christ, who, by the power that enables him to bring everything under his control, will transform our lowly bodies so that they will be like his glorious body.

2 Peter 1:11 - you will receive a rich welcome into the eternal kingdom of our Lord and Savior Jesus Christ.


---
Click on www.grandpappy.org for Robert's Home Page.

Grandpappy's e-mail address is: RobertWayneAtkins@hotmail.com