---
A Night Dream
Copyright © October 31, 2003
by Robert Wayne Atkins, P.E.
All Rights Reserved.
---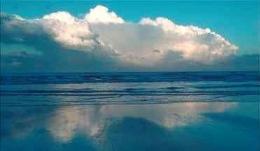 I had a dream about heaven and
I was standing beside a crystal blue sea.
There God whispered into my heart,
and made a believer out of me.
Of all the knowledge that could be known,
only this was revealed to me:
That in a single speck of dust,
there are infinite possibilities.
---
---



Reference Scripture Verses


Revelation 22:1-2 - Then the angel showed me the river of the water of life, as clear as crystal, flowing from the throne of God and of the Lamb down the middle of the great street of the city. On each side of the river stood the tree of life, bearing twelve crops of fruit, yielding its fruit every month. And the leaves of the tree are for the healing of the nations.

Genesis 2:7 - the LORD God formed the man from the dust of the ground and breathed into his nostrils the breath of life, and the man became a living being.

Genesis 3:19 - "By the sweat of your brow you will eat your food until you return to the ground, since from it you were taken; for dust you are and to dust you will return."

Exodus 8:16 - Then the LORD said to Moses, "Tell Aaron, 'Stretch out your staff and strike the dust of the ground,' and throughout the land of Egypt the dust will become gnats."

Exodus 9:8-9 - Then the LORD said to Moses and Aaron, "Take handfuls of soot from a furnace and have Moses toss it into the air in the presence of Pharaoh. It will become fine dust over the whole land of Egypt, and festering boils will break out on men and animals throughout the land."


---
Click on www.grandpappy.org for Robert's Home Page.

Grandpappy's e-mail address is: RobertWayneAtkins@hotmail.com