---
Knowledge
Copyright © July 11, 2005
by Robert Wayne Atkins, P.E.
All Rights Reserved.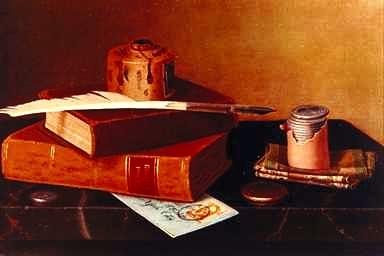 ---

It is good to know about God and His plan of Salvation.
But that knowledge by itself will not get you into Heaven.

You must accept Jesus as your Savior and Lord and Master.
If Jesus is in your heart then Heaven's gates you may enter.


---
---



Reference Scripture Verses


Ephesians 2:8-9 - For it is by grace you have been saved, through faith -- and this not from yourselves, it is the gift of God -- not by works, so that no one can boast.

James 2:18-19 - But someone will say, "You have faith; I have deeds." Show me your faith without deeds, and I will show you my faith by what I do. You believe that there is one God. Good! Even the demons believe that -- and shudder.

Romans 3:22-28 - This righteousness from God comes through faith in Jesus Christ to all who believe. There is no difference, for all have sinned and fall short of the glory of God, and are justified freely by his grace through the redemption that came by Christ Jesus. God presented him as a sacrifice of atonement, through faith in his blood. He did this to demonstrate his justice, because in his forbearance he had left the sins committed beforehand unpunished -- he did it to demonstrate his justice at the present time, so as to be just and the one who justifies those who have faith in Jesus. Where, then, is boasting? It is excluded. On what principle? On that of observing the law? No, but on that of faith. For we maintain that a man is justified by faith apart from observing the law.

Romans 10:9-13 - if you confess with your mouth, "Jesus is Lord," and believe in your heart that God raised him from the dead, you will be saved. For it is with your heart that you believe and are justified, and it is with your mouth that you confess and are saved. As the Scripture says, "Anyone who trusts in him will never be put to shame." For there is no difference between Jew and Gentile -- the same Lord is Lord of all and richly blesses all who call on him, for, "Everyone who calls on the name of the Lord will be saved."

Acts 7:55-56 - Stephen, full of the Holy Spirit, looked up to heaven and saw the glory of God, and Jesus standing at the right hand of God. "Look," he said, "I see heaven open and the Son of Man standing at the right hand of God."

2 Thessalonians 1:7-10 - This will happen when the Lord Jesus is revealed from heaven in blazing fire with his powerful angels. He will punish those who do not know God and do not obey the gospel of our Lord Jesus. They will be punished with everlasting destruction and shut out from the presence of the Lord and from the majesty of his power on the day he comes to be glorified in his holy people and to be marveled at among all those who have believed. This includes you, because you believed our testimony to you.


---
Click on www.grandpappy.org for Robert's Home Page.

Grandpappy's e-mail address is: RobertWayneAtkins@hotmail.com