---
Grace
Copyright © August 29, 2005
by Robert Wayne Atkins, P.E.
All Rights Reserved.
---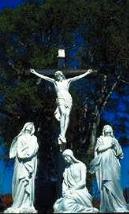 The gospel story in the Bible reveals the true meaning of the word grace.
When Jesus was nailed to the cross, He voluntarily took your and my place.
As He spilled His Holy Blood, the sins of the entire world He did erase.

Grace was purchased at the cross and there a great victory was won.
Grace is not for sale. But God does offer it freely to everyone.
Grace is obtained by believing in Jesus as God's Only Begotten Son.

Grace is mercy and forgiveness and acceptance by our Heavenly Father.
Grace is our adoption as joint heirs with Jesus, our Most Holy Brother.
Grace is the gift of eternal life filled with God's love and with His favor.


---
---



Reference Scripture Verses


John 3:16 - For

God so loved the world that he gave his
One and only
Son, that whoever believes in him shall not
Perish but have
Eternal
Life.

John 10:17-18 - The reason my Father loves me is that I lay down my life -- only to take it up again. No one takes it from me, but I lay it down of my own accord. I have authority to lay it down and authority to take it up again.

Matthew 16:28 - This is my blood of the covenant, which is poured out for many for the forgiveness of sins.

Hebrews 2:9 - we see Jesus, who was made a little lower than the angels, now crowned with glory and honor because he suffered death, so that by the grace of God he might taste death for everyone.

Matthew 20:28 - the Son of Man did not come to be served, but to serve, and to give his life as a ransom for many.

1 Corinthians 15:56-57 - The sting of death is sin, and the power of sin is the law. But thanks be to God! He gives us the victory through our Lord Jesus Christ.

Romans 6:23 - the gift of God is eternal life in Christ Jesus our Lord.

Ephesians 2:8-9 - For it is by grace you have been saved, through faith -- and this not from yourselves, it is the gift of God -- not by works, so that no one can boast.

Ephesians 1:7 - In him we have redemption through his blood, the forgiveness of sins, in accordance with the riches of God's grace

Titus 3:7 - so that, having been justified by his grace, we might become heirs having the hope of eternal life.

Romans 8:23 - Not only so, but we ourselves, who have the firstfruits of the Spirit, groan inwardly as we wait eagerly for our adoption as sons, the redemption of our bodies.

1 Corinthians 2:9 - "No eye has seen, no ear has heard, no mind has conceived what God has prepared for those who love him."

Revelation 22:21 - The grace of the Lord Jesus be with God's people. Amen.

Note: The above is the last sentence in the Bible.


---
Click on www.grandpappy.org for Robert's Home Page.

Grandpappy's e-mail address is: RobertWayneAtkins@hotmail.com