---
What is God's True Name ?
Copyright © May 23, 2005
by Robert Wayne Atkins, P.E.
All Rights Reserved.
---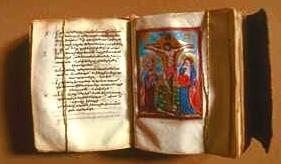 When we pause to pray and talk to God we usually call Him Father,
or Lord, or God, or I Am Who I Am, or maybe something other.

All who trust and believe in the name of Jesus, God's Only Begotten Son,
will spend eternity in Glory and a New Name for God we will learn.

On each one of us God will write His True Name and the True Name of His Son,
and that will seal our adoption as His children into His Eternal Kingdom.

It will not be an ugly tattoo or something else we would be ashamed to bear.
It will be like an adornment of precious jewels which we will be proud to wear.

What an Honor that will be and what a Magnificent Gift we will each receive,
to know the True Name of God and of His Son, the One in Whom we believe.


---
---



Reference Scripture Verses


Exodus 3:14 - God said to Moses, "I AM WHO I AM. This is what you are to say to the Israelites: 'I AM has sent me to you.' "

Exodus 34:14 - Do not worship any other god, for the LORD, whose name is Jealous, is a jealous God.

Leviticus 18:21 - you must not profane the name of your God. I am the LORD.

Jeremiah 32:18 - O great and powerful God, whose name is the LORD Almighty,

Romans 1:7 - Grace and peace to you from God our Father and from the Lord Jesus Christ.

Revelation 3:11-13 - I am coming soon. Hold on to what you have, so that no one will take your crown. Him who overcomes I will make a pillar in the temple of my God. Never again will he leave it. I will write on him the name of my God and the name of the city of my God, the new Jerusalem, which is coming down out of heaven from my God; and I will also write on him my new name. He who has an ear, let him hear what the Spirit says to the churches.

Revelation 22:3-4 - The throne of God and of the Lamb will be in the city, and his servants will serve him. They will see his face, and his name will be on their foreheads.


---
Click on www.grandpappy.org for Robert's Home Page.

Grandpappy's e-mail address is: RobertWayneAtkins@hotmail.com