---
The Book
Copyright © November 20, 2003
by Robert Wayne Atkins, P.E.
All Rights Reserved.
---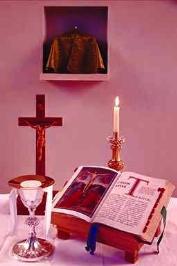 Adam and Eve, Abraham and Sarah,
David and Bathsheba, Joseph and Mary.
Famous names from distant ages past,
all written in a Book we know is most Holy.
Even a poor unnamed widow who gave her two mites,
has a place in Scripture and a home in Glory.
Wouldn't it be grand if your name was inside the Book
and not just on its cover or on its first page?
Be not dismayed. God has another Book and
He wrote your name in it when you were just a babe.
And if you claim Jesus Christ as
your personal Savior while you still breathe,
Then your name will never be erased
from the Lamb's Book of Life for all eternity.
---
This Poem Dedicated to My Granddaughter
Olivia Ryan Atkins
First Child of the Union between Bobbie Jo Hetherington and Rhett Wayne Atkins.
Together they created a beautiful new life.
Dedicated by:
Robert Wayne Atkins, P.E.
Retired Baptist Church Deacon
and Great-Grandson of a Baptist Preacher.
Date of Dedication of Poem: November 27, 2003
---
---



Reference Scripture Verses


Psalm 139:13-18 - For you created my inmost being; you knit me together in my mother's womb. I praise you because I am fearfully and wonderfully made; your works are wonderful, I know that full well. My frame was not hidden from you when I was made in the secret place. When I was woven together in the depths of the earth, your eyes saw my unformed body. All the days ordained for me were written in your book before one of them came to be. How precious to me are your thoughts, O God How vast is the sum of them! Were I to count them, they would outnumber the grains of sand.

Daniel 12:2-3 - Multitudes who sleep in the dust of the earth will awake: some to everlasting life, others to shame and everlasting contempt. Those who are wise will shine like the brightness of the heavens, and those who lead many to righteousness, like the stars for ever and ever.

John 3:16-18 - "For God so loved the world that he gave his one and only Son, that whoever believes in him shall not perish but have eternal life. For God did not send his Son into the world to condemn the world, but to save the world through him. Whoever believes in him is not condemned, but whoever does not believe stands condemned already because he has not believed in the name of God's one and only Son."

Luke 10:20 - rejoice that your names are written in heaven.

Revelation 3:4-5 - They will walk with me, dressed in white, for they are worthy. He who overcomes will, like them, be dressed in white. I will never blot out his name from the book of life, but will acknowledge his name before my Father and his angels.

Revelation 20:11-15 - Then I saw a great white throne and him who was seated on it. Earth and sky fled from his presence, and there was no place for them. And I saw the dead, great and small, standing before the throne, and books were opened. Another book was opened, which is the book of life. The dead were judged according to what they had done as recorded in the books. The sea gave up the dead that were in it, and death and Hades gave up the dead that were in them, and each person was judged according to what he had done. Then death and Hades were thrown into the lake of fire. The lake of fire is the second death. If anyone's name was not found written in the book of life, he was thrown into the lake of fire.

Revelation 21:27 - Nothing impure will ever enter it, nor will anyone who does what is shameful or deceitful, but only those whose names are written in the Lamb's book of life.

Matthew 24:55 - Heaven and earth will pass away, but my words will never pass away.

John 3:36 - Whoever believes in the Son has eternal life, but whoever rejects the Son will not see life, for God's wrath remains on him.

Acts 4:12 - Salvation is found in no one else, for there is no other name under heaven given to men by which we must be saved.

Acts 2:21 - everyone who calls on the name of the Lord will be saved.

John 5:24-29 - "I tell you the truth, whoever hears my word and believes him who sent me has eternal life and will not be condemned; he has crossed over from death to life. I tell you the truth, a time is coming and has now come when the dead will hear the voice of the Son of God and those who hear will live. For as the Father has life in himself, so he has granted the Son to have life in himself. And he has given him authority to judge because he is the Son of Man. Do not be amazed at this, for a time is coming when all who are in their graves will hear his voice and come out -- those who have done good will rise to live, and those who have done evil will rise to be condemned."


---
Click on www.grandpappy.org for Robert's Home Page.

Grandpappy's e-mail address is: RobertWayneAtkins@hotmail.com