---
Beliefs and Values
Copyright © May 8, 2006
by Robert Wayne Atkins, P.E.
All Rights Reserved.
---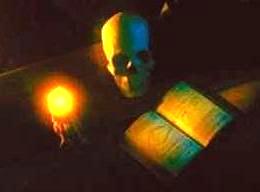 Are your spiritual beliefs and moral values based on:

Life experiences, academic logic, popular trends, scientific theories?
Personal preferences based on your current life style choices?
Books that were written thousands, or hundreds, or fewer years ago?



Are your spiritual beliefs acceptable to God or primarily to yourself?

At the end of your life you will discover the truth of your beliefs.
Beliefs based only on God's Holy Bible will get you into Heaven.
Beliefs based on anything else will get you into Hell.


---
---



Reference Scripture Verses


Proverbs 14:12 - There is a way that seems right to a man, but in the end it leads to death. (and Proverbs 16:25)

Proverbs 3:5-6 - Trust in the LORD with all your heart and lean not on your own understanding; in all your ways acknowledge him, and he will make your paths straight.

Matthew 10:28 - Do not be afraid of those who kill the body but cannot kill the soul. Rather, be afraid of the One who can destroy both soul and body in hell.

2 Peter 2:4-10 - For if God did not spare angels when they sinned, but sent them to hell, putting them into gloomy dungeons to be held for judgment; if he did not spare the ancient world when he brought the flood on its ungodly people, but protected Noah, a preacher of righteousness, and seven others; if he condemned the cities of Sodom and Gomorrah by burning them to ashes, and made them an example of what is going to happen to the ungodly; and if he rescued Lot, a righteous man, who was distressed by the filthy lives of lawless men (for that righteous man, living among them day after day, was tormented in his righteous soul by the lawless deeds he saw and heard) -- if this is so, then the Lord knows how to rescue godly men from trials and to hold the unrighteous for the day of judgment, while continuing their punishment. This is especially true of those who follow the corrupt desire of the sinful nature and despise authority.

Isaiah 66:22-24 - "As the new heavens and the new earth that I make will endure before me," declares the LORD, "so will your name and descendants endure. From one New Moon to another and from one Sabbath to another, all mankind will come and bow down before me," says the LORD. "And they will go out and look upon the dead bodies of those who rebelled against me; their worm will not die, nor will their fire be quenched, and they will be loathsome to all mankind."

Isaiah 43:10-13 - "You are my witnesses," declares the LORD, "and my servant whom I have chosen, so that you may know and believe me and understand that I am he. Before me no god was formed, nor will there be one after me. I, even I, am the LORD, and apart from me there is no savior. I have revealed and saved and proclaimed -- I, and not some foreign god among you. You are my witnesses," declares the LORD, "that I am God. Yes, and from ancient days I am he. No one can deliver out of my hand. When I act, who can reverse it?"

1 Thessalonians 5:9-10 - For God did not appoint us to suffer wrath but to receive salvation through our Lord Jesus Christ. He died for us so that, whether we are awake or asleep, we may live together with him.

1 Timothy 6:20-21 - Turn away from godless chatter and the opposing ideas of what is falsely called knowledge, which some have professed and in so doing have wandered from the faith.

2 Timothy 3:12-17 - In fact, everyone who wants to live a godly life in Christ Jesus will be persecuted, while evil men and impostors will go from bad to worse, deceiving and being deceived. But as for you, continue in what you have learned and have become convinced of, because you know those from whom you learned it, and how from infancy you have known the holy Scriptures, which are able to make you wise for salvation through faith in Christ Jesus. All Scripture is God-breathed and is useful for teaching, rebuking, correcting and training in righteousness, so that the man of God may be thoroughly equipped for every good work.

2 Timothy 4:1-5 - In the presence of God and of Christ Jesus, who will judge the living and the dead, and in view of his appearing and his kingdom, I give you this charge: Preach the Word; be prepared in season and out of season; correct, rebuke and encourage -- with great patience and careful instruction. For the time will come when men will not put up with sound doctrine. Instead, to suit their own desires, they will gather around them a great number of teachers to say what their itching ears want to hear. They will turn their ears away from the truth and turn aside to myths. But you, keep your head in all situations, endure hardship, do the work of an evangelist, discharge all the duties of your ministry.


---
Click on www.grandpappy.org for Robert's Home Page.

Grandpappy's e-mail address is: RobertWayneAtkins@hotmail.com