---
Ancestors
Copyright © December 15, 2004
by Robert Wayne Atkins, P.E.
All Rights Reserved.
---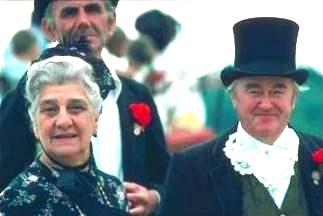 Ancestors known and unknown,
both male and female.
Not here on this earth,
but on the other side of the veil.

From heaven they watch me,
when I succeed and when I fail.
They wait patiently for me,
for there is much they wish to tell.

They are in no hurry,
for they have all eternity.
But the first day I arrive,
what a greeting I will receive.

Amidst laughter and singing,
I will be embraced cheerfully.
Then I will truly know,
they have always loved me.


---
---



Reference Scripture Verses


Matthew 22:31-32 - But about the resurrection of the dead -- have you not read what God said to you, "I am the God of Abraham, the God of Isaac, and the God of Jacob' ? He is not the God of the dead but of the living."

Job 19:25-27 - I know that my Redeemer lives, and that in the end he will stand upon the earth. And after my skin has been destroyed, yet in my flesh I will see God; I myself will see him with my own eyes -- I, and not another.

Luke 16:19-26 - There was a rich man who was dressed in purple and fine linen and lived in luxury every day. At his gate was laid a beggar named Lazarus, covered with sores and longing to eat what fell from the rich man's table. Even the dogs came and licked his sores. The time came when the beggar died and the angels carried him to Abraham's side. The rich man also died and was buried. In hell, where he was in torment, he looked up and saw Abraham far away, with Lazarus by his side. So he called to him, 'Father Abraham, have pity on me and send Lazarus to dip the tip of his finger in water and cool my tongue, because I am in agony in this fire.' But Abraham replied, 'Son, remember that in your lifetime you received your good things, while Lazarus received bad things, but now he is comforted here and you are in agony. And besides all this, between us and you a great chasm has been fixed, so that those who want to go from here to you cannot, nor can anyone cross over from there to us.'

Luke 15:7 - I tell you that in the same way there will be more rejoicing in heaven over one sinner who repents than over ninety-nine righteous persons who do not need to repent.

Hebrews 12:11 - Therefore, since we are surrounded by such a great cloud of witnesses, let us throw off everything that hinders and the sin that so easily entangles, and let us run with perseverance the race marked out for us.

John 16:22 - I will see you again and you will rejoice, and no one will take away your joy.

Isaiah 46:4 - Even to your old age and gray hairs I am he, I am he who will sustain you. I have made you and I will carry you; I will sustain you and I will rescue you.

Philippians 3:20-21 - But our citizenship is in heaven. And we eagerly await a Savior from there, the Lord Jesus Christ, who, by the power that enables him to bring everything under his control, will transform our lowly bodies so that they will be like his glorious body.

2 Peter 1:11 - you will receive a rich welcome into the eternal kingdom of our Lord and Savior Jesus Christ.


---
Click on www.grandpappy.org for Robert's Home Page.

Grandpappy's e-mail address is: RobertWayneAtkins@hotmail.com